About Yonezawa Ori
The origin of Yonezawaori was linen fabric made from ramie at the behest of the 9th feudal lord Yozan Uesugi who tried to energize regional industry. Now employing high-mix low-volume production system, Yonezawa area is the largest hakama fabric producer in Japan with its world-class weaving technology equivalent to that of Como, Italy.
Yonezawa Ori process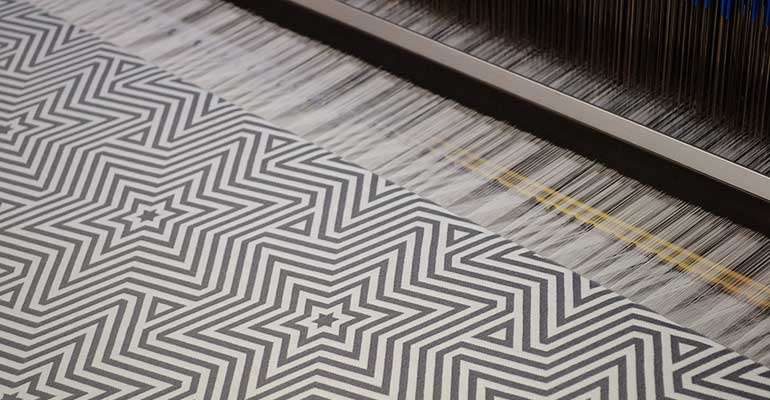 Plan and Design
The department of western-style garments examines fast-changing fashion trends and creates novel products using Yonezawa-ori. Inputting design or pattern into computer application programs, they create a drawing of textile.
Dyeing and Preparation
Different kinds of fibers and ways of weaving will make difference in texture of fabric. Dyeing is another important job. Chemical dyeing is a mainstream method nowadays, but we still use natural dyes with traditional dyeing method. Threads are dyed with rich experiences and skills of weavers and examined by customers.
Threads are winded from hank to reel by yarn spinning machine. Align the weaving warps with necessary number and length, and set them on a loom.
Looms
There are two kinds of looms: handlooms and power looms. And there are several ways of weaving: hand weaving, jacquard weaving and dobby. Quick computer-controlled looms have been used recently.
Finish and Inspection
Align the cloth width, unwrinkled it and makes it glossy. At finish process, check the quality in detail. In the case of piece dyeing, undyed yarn is woven to fabric, then the fabric is dyed. Many textiles coming from all over Japan are dyed at our factory.
Sewing
Dyed fabrics are sewn into garments.
History of Yonezawa Ori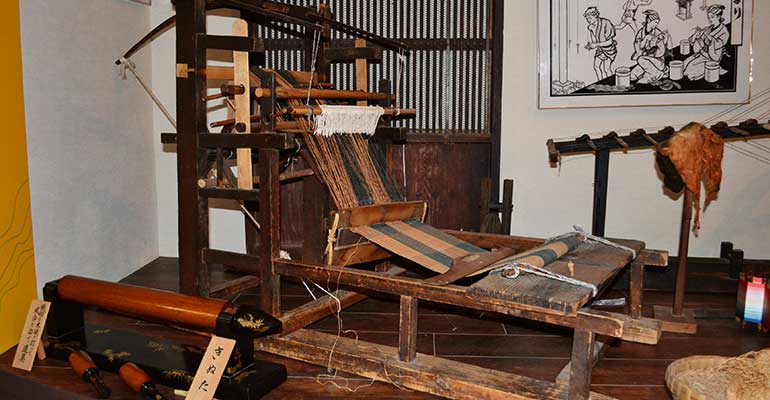 Yonezawa is the northernmost textile production site in Japan.
In the early 1600s, Yonezawa had already cultivated lacquer, mulberry, ramie and safflower. In 1601 when Uesugi family was assigned to govern Yonezawa, Kanetsugu Naoe, chief retainer of Kagekatsu Uesugi, promoted these traditional local specialties and established a rule that Yonezawa clan would purchase them, leading to the clan monopoly policy later.
Ramie was first transported to Nanbu clan, later to other textile production sites as a raw material of Nara-sarashi, bleached linen fabric, and Echigo-chizimi, linen fabric with wrinkles on its surface.
In 1776, under the industrial development initiatives of the 9th leader Yozan Uesugi, Yonezawa clan welcomed masters of making chizimi fabrics from Echigo region, built factories, educated girls and women how to weave linen fabrics made of ramie. This is the beginning of Yonezawa weaving industry.
With an increasing cultivation of mulberry and silkworms encouraged by the reform plan of Yozan Uesugi, textile industry in Yonezawa shifted its focus from linen fabrics to the mixture of linen and silk, and finally to silk fabrics. It's been about 40 years since masters came to Yonezawa.
Tsumugi made from floss silk was called Yoneryu-tsumugi, Nagai-tsumugi or Shirataka-tsumugi, but later the name was unified to Okitama-tsumugi, consequently developing to a traditional handcraft.
With the advent of Meiji era in the late 1880s, chemical dyeing became widespread and power looms were developed and improved. Yonezawaori manufacturing for overseas markets started and was mainly exported to India and the US, paving the way to Yonezawaori exhibitions held abroad after the world war Ⅰ. In 1917 and 1919, fire disasters occurred in Yonezawa, which spurred the transition from hand weaving to power weaving machines.
Hakama fabric made in Yonezawa accounts for the largest share in Japan now, but it was predominant in 1900s. With the enthusiasm of local people, Yonezawaori is still able to preserve its high quality.
In 1915, Professor Itsuzo Hata of Yonezawa Higher Technical School, predecessor of Yamagata University Engineering Department, invented the first artificial silk in Japan and its manufacturing began. Ahead of other regions, Yonezawa committed itself in R&D of rayon fabrics and its rayon thread has been highly appreciated. Under the wartime control, however, Yonezawaori production sites were forced to manufacture military goods.
As more and more Japanese people wore western-style clothes after the World War Ⅱ, women's dress fabrics made of Yonezawari established a new field in line with the progress of finish-processing skills and development of new synthetic fiber fabrics. Yonezawa was successful in making elaborate products by mixing a variety of threads like silk and synthetic fibers. As kimono wearers got to like high-ends, it expedited quality improvement and developments of new products such as safflower-dyed and natural plant-dyed fabrics. Our challenge is not only handing traditional skills down to future generations, but proposing new clothing style to pursue the new possibilities of Yonezawaori.
History of Yonezawa Ori
| | |
| --- | --- |
| 1776 | Start of linen fabrics Yonezawaori made from ramie at the behest of 9th lord Yozan Uesugi |
| 1876 | Rampant production of poor quality fabrics due to hands-off uncontrolled policy. |
| 1892 | Yonezawa Silk Fabric Industry Association was established with the aim of strengthened inspection and quality improvement. |
| 1897 | Yonezawa Technical School, current Yamagata Prefectural Yonezawa Technical High School, opened in pursuit of promoting fabric industry and nurturing engineers. |
| 1915 | Research of Professor Itsuzo Hata of Yonezawa Higher Technical School led to the invention of artificial silk for the first time in Japan and its manufacturing began. |
| 1953 | Renamed to Yonezawa Fabric Cooperative equipped with sales promotion section. |
| 1962 | Manufacturing, commercial, dyeing and organizing section launched its own cooperative. Unifying twisted yarn section and design section with 4 cooperatives, Yonezawa Fabric Cooperative Union was born. Sewing section was excluded at that time. |
| 1968 | Yoneori Museum, basis of Yonezawaori, was constructed. |
| 1996 | Renamed to Yonezawa Fiber Cooperative Union |
| 2013 | Renamed to Yonezawa Fiber Association |